From your home country, the easiest way is to fly to Oslo, the capital of Norway.
From Oslo you can drive, take a train or express bus to Otta.
From Otta it is just over 20 km by taxi (tel. 61 23 05 01) to the parking lot at Spranget
If you choose to drive a private car, use the E6 motorway all the way up to Otta. Just south of Otta, take the E6 to Mysuseter. Arriving at Mysuseter, drive through the barrier (NOK 30) to Tjønnbakken and further towards the car park at Spranget (NOK 30).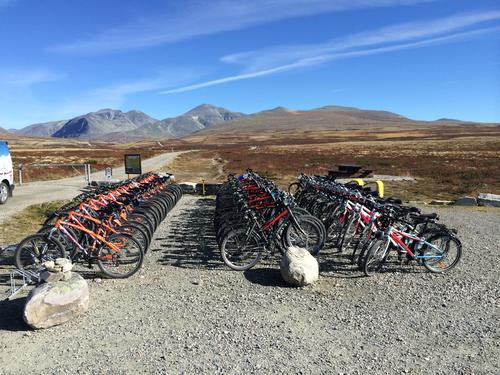 The car park Spranget
From the car park at Spranget, it is possible to use one of the many mountain bikes that you can pay for afterwards upon arrival at the mountain lodge Rondvassbu. By bike it is 6 km with gravel road from Spranget and into Rondvassbu. It is also possible to walk, both on the gravel road and on the marked path in the terrain. Right after the mountain lodge Rondvassbu we have our Rondane Base Camp.